This is such a busy week here at Cups by Kim. I've signed up for so many different recipe challenges I'm going from Grilled Cheese to Lemons!
Now it's time to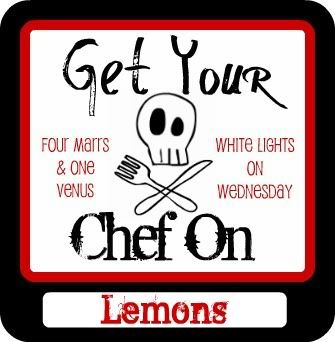 This challenge is being hosted by
&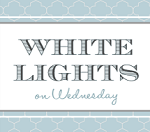 Two of my very best blogging buddies.
They both are such great inspirations to me. I sometimes wish we lived closer together because we would totally hang out and cook!
For this challenge Jen & Julie decided that lemons would be the secret ingredient.
We were instructed to find a recipe that contained the secret ingredient and share it with all of our readers.
I decided on
(of course I had to do cupcakes, what did you expect!)
I found this recipe a while back while thinking up ideas for my cupcake customers.
Not only does it containg fresh blueberries, and lemon, but it is topped off with lemon cream cheese frosting. Y.U.M!!
Now that challenge one of Get Your Chef on is over, I can't wait to see what's in store for next month!!
Thanks Julie & Jen for hosting a great party! We really should hang out sometime!
Lemon Blueberry Cupcakes Yield: 36 cupcakes
Ingredients
Cupcakes:
Frosting:
2 sticks butter
8 ounces cream cheese
1 teaspoon vanilla extract
Juice and zest of 1 lemon
10 to 12 cups powdered sugar
Directions
For the cupcakes: Preheat the oven to 350 degrees. Line cupcake tins with 24 paper liners.
Mix the flour, soda and salt together in a bowl. Set aside. Add the butter and sugar to a mixing bowl and cream until light and fluffy. Add the eggs 1 at a time and mix thoroughly. Add the vanilla and
lemon zest
and mix to combine. Add the dry mixture in 3 parts alternating with the
sour cream
, ending with dry mixture. Stir in the blueberries. Fill the prepared tins two-thirds full and bake 16 to 20 minutes. Cool.
For the frosting: Cream the butter and
cream cheese
until smooth. Add the vanilla, lemon zest and juice and blend until combined. Add the
powdered sugar
gradually until combined.
Frost the cooled cupcakes with the cream cheese frosting.
And don't forget, while you're here stop by
Sweet & Simple Sunday
and link up your recipes and goodies and enter to win a gift tote from
Natural Garden Soaps
!