It's Crazy Cooking Challenge Day!
I've been anticipating this day since I signed up to be part of this.
I had no idea what I was getting into, all I knew was that I couldn't wait to see what the challenge had in store.
This month's Crazy Cooking Challenge
is
The Task:
Find a recipe online, on any blog, for any grilled cheese sandwich.
Make it.
Blog about it.
The Rules of The Game:
The recipe must be from a personal blog. No professionals allowed.
It must contain bread.
It must contain cheese.
That's it.
As I mentioned a few posts ago, Suzanna at Galley Kitchen decided to do a tribute to the ever popular, ever cheesy, Grilled Cheese Sandwich.
I love traditional Chicken Cordon Bleu so squeezing it between two slices of toasted french bread just enhanced its appeal 100 fold for me.
Suzanna has so many great recipes on her blog. You have got to go check it out!
After clicking over there, make sure you click back here and check out all of the other great contributors to the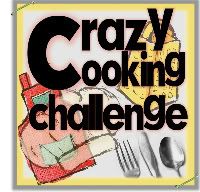 (they're listed at the bottom in the link list)
And if you're interested, sign yourself up for next months challenge and join in on the fun!
Thanks for stopping by and I hope you enjoy these great grilled cheese recipes!

Chicken Cordon Bleu Grilled Cheese Sandwiches
Ingredients
2 slices white bread ( I decided to go for french bread)
Butter
Half a roasted chicken breast, thinly sliced
2 slices ham
2 slices Muenster cheese (I used traditional swiss cheese)
1 tablespoon chopped green onions
Roasted Garlic Mayo (recipe below)
Roasted Garlic Mayo
1 clove roasted garlic
1 tablespoon mayo
1/8 teaspoon lemon juice
Pinch of salt
Instructions
Smoosh together the roasted garlic, mayo, lemon juice, and salt.
Top each slice of bread with a slice of cheese.
Spread one cheese slice with roasted garlic mayo.
Top with ham, chicken, and green onions.
Close up the sandwich, and butter the outsides of the bread.
Griddle on medium heat until the cheese is melted and the bread is golden brown.