So a week or so ago I did
these
cupcakes for National Kidney Day and it got me thinking, what other National "Holidays" are out there that I'm totally missing every single day. I decided to look up the days in March (since I was already nearing the end of February). I found a bunch of interesting holidays. Things like National Clams On The Half Shell Day on March 31st and National Crown Roast Of Pork Day on March 7th. I decided to go with a more traditional National Holiday, National Potato Chip Day! Celebrated around this great big nation on March 14th. And yes, I was also made aware that this is national Pi day (again, I don't claim to be a math genius, but I do know that Pi is 3.14........to the umpteenth decimal point). I also considered doing an Everything You Do Is Right Day cupcake, but I figured a cupcake pretty much takes care of that one on it's own.
I decided to incorporate this holiday into something I do best, Cupcakes! After doing a little thinking, and a little Pinning I decided what goes better with potato chips than a Coke. So I decided on a Coca-Cola Chocolate Cupcake topped with Coca-Cola Frosting, Buttercream, crunched up chips(found sparingly in the bottom of the bag), and a chocolate covered potato chip to top it all off!
I found the chocolate covered chip recipe here at
Grateful Belly
, she has alot of great recipes, you should check her out just as soon as you're done reading this. I decided these needed to be the topping on this cupcake and couldn't wait to make them.
I was trying to decide on a chocolate cupcake recipe that incorported the Coca-Cola into the batter, and was considering just replacing some of the milk or water in another chocolate recipe I have, until I came across this recipe at
Cupcake Recipes.
The mixture of Coca-Cola and marshmallows was very intriguing to me. I'd never done a cupcake recipe like this before and was anxious to try it.
Research done, ingredients purchased, let's get these babies in the oven!
Here's what you'll need for the cupcakes.
Coca-Cola Cupcakes
Part One:
1 Cup Coca-Cola (or other Cola. No diet)
1/2 cup unsalted butter
1/2 cup canola oil
1/4 cup unsweetened cocoa powder
22 large marshmallows
Part Two:
2 cups all purpose flour
2 cups granulated sugar
1 teaspoon baking soda
1 teaspoon vanilla extract
1 cup buttermilk
2 large eggs, beaten
Coca-Cola Frosting
1/4 unsweetened cocoa powder
6 Tablespoons Coca-Cola (or other cola)
1/2 cup butter
3 3/4 cup powdered sugar
1 teaspoon vanilla extract
To make the cupcakes:
In a medium sauce pan mix together cola, butter, oil and cocoa powder. Bring to a boil and then remove from the heat. Stir in marshmallows and cover with the lid to allow the marshmallows to melt. Let the pan sit for a few minutes, stir until marshmallows are encorporated into the chocolate mixture.
In a mixing bowl, combine flour, sugar, and baking soda. Mix in eggs, vanilla, and buttermilk until well combined.
Gradually stir in chocolate mixture until everything is well combined.
Fill cupcake liners 2/3 full, bake on 325 degrees for 20 minutes or until cupcake bounce back when touched gently.
(Actually upon further review, I'd rather you bake these on 350 for 15-18 minutes. They seemed to turn out a little better)
To make the frosting:
In a medium sauce pan mix together butter, cola, and cocoa powder. Heat over medium heat until butter is melted. Remove from heat and mix in powdered sugar and vanilla. Stir until blended well. Allow frosting to cool and thicken until it is the consistancy you want for frosting your cupcakes. (Just a little note here, this frosting isn't your traditional "frosting", I woud consider it more of a glaze than a frosting). I actually ended up adding some Butter Cream Frosting to the cucpakes as well.
After I frosted the cupcakes I rolled the edges in crushed potato chips and then strategically placed (yeah I just set it on there) a Chocolate Covered Chip on top.
Although I'd love to say just how fantastic these cupcakes are, I have started a new eating plan, and cupcakes are not part of it (bummer), so I had all of my wonderful family members try the cupcake. Here are the responses I got.
Sophie:
"Yummy".
She's a girl of many words :o)
Aiden:
"Those are really good Mom!"
Pat:
No verdict from him yet, although he did think the chocolate frosting was very sweet.
The ladies at the office:
You have a winner!!
You've only got a couple of days to get these done in preparation for all of your National Potato Chip Day Celebrations so you better get busy!! Enjoy!!
Peace. Love. Cupcakes.
Kim
You'll find me linked up here: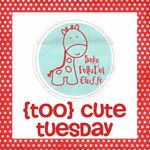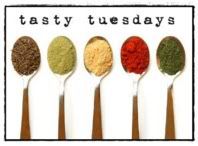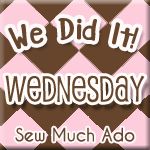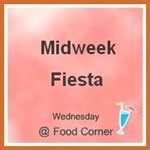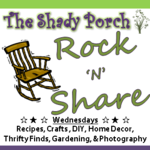 Check it out!!