This has been one crazy week. I'll fill you in later on that. But now, I'm filling you up with this
This is my entry in this month's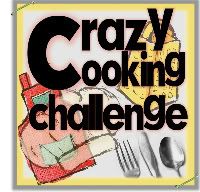 When I heard that this month was going to be the Fried Chicken challenge I knew exactly what I wanted to do, but then I remembered that we had to find our recipe from another wonderful Blog out there in Blogland. Here's the one that I was going to use originally from
My Name is Snickerdoodle
, and trust me this is a GREAT recipe!
But then, to my surprise, the game changed!
Now we're allowed to use any Fried Chicken recipe we'd like. I knew exactly where to go!
A few years back Dear Hubby and I bought
these books
, and one of my most favorite recipes in it is the fried chicken.
In fact, I've used it so many times, my book falls open to that page every time I take it out of the cabinet!
I've had to change up the recipe a little bit, but it's still the perfect copy cat recipe for KFC Original Recipe Fried Chicken.
Here's how it's done!
3 cups Crisco vegetable shortening
1 egg, beaten
2 cups milk
1 1/2 tablespoons salt
2 teaspoons black pepper
1 teaspoon Accent
4 large boneless skinless chicken breasts
Place the shortening in a large electric skillet or frying pan. Heat to medium high heat (about 350).
In a small bowl combine the egg and milk.
In a seperate bowl, combine the dry ingredients.
Dip each piece of chicken into the milk until fully moistenend.
Roll the moistened chicken in the flour mixture until completely covered.
Dip each piece back into the milk mixure and then back into flour mixture once again.
Place each piece into the melted oil.
Allow chicken to cook on each side about 15 minutes (do not keep turning, you only need to turn it a couple of times)
Remove from pan and allow to drain on a cooling rack.
Aside from my grandmother's and mom's fried chicken recipes this has to be my all time favorite recipe. It's amazing alone, on a sandwich with some mayo and pickles, or served up next to a big heaping pile of mashed potatoes, I really hope that you enjoy this one as much as I do!
Let's see what everyone has been up to this month!