It's round two for me in this Crazy Cooking Challenge, and this month's Challenge was Fruit Smooties & Shakes.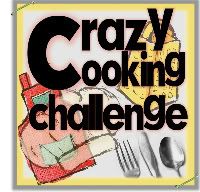 This was a tough one for me believe it or not!
Although I've been known to smootie up anything, I had a hard time finding something unique and different that would not only catch my attention, but also my taste buds.
Then I found this recipe.
Honeydew Smoothies
from
A Bunch of Bishops
Now, not only does she have some of the cutest kids ever, Janiene

is full out creative and crafty!

I just happened to stumble across her page recently and was so excited when she linked up to Sweet & Simple Sunday. I love finding new friends in the blogosphere (well in real-life too, but blogosphere friends totally rock!)

Anyways, I was even more excited when I realized that I had most of the ingredients on hand for these Honeydew Smooties.

And since I've realized that I'm an adult and needed to have appropriate working appliances in my home, I actually have a blender I'm totally happy with.

(Who knew that Strawberry Daquiri's could break down a blender so fast?! I think it was my way of reliving the time spent at the Tiki Bar on our Honeymoon)

Anywho, here's what you'll need for this sweet & summery drink

Scoop out the flesh of 1/2 of an organic honeydew melon

1 cup organic plain whole milk yogurt

2 tbsp honey

1-1/2 cups ice

Now just blend her up and enjoy! That's it! Smoothie Simplicity!
Now I do have to admit, I changed it up a bit, but only because I didn't have the plain organic yogurt in my fridge. I had a container of peach Oikos Greek yogurt so that's what I mixed it and it was great! I'm sure that any kind of yogurt would work just perfect in this recipe.
Thanks for stopping by and be sure to check out all of the amazing Fruit Smooties & Shakes in this month's Crazy Cooking Challenge!